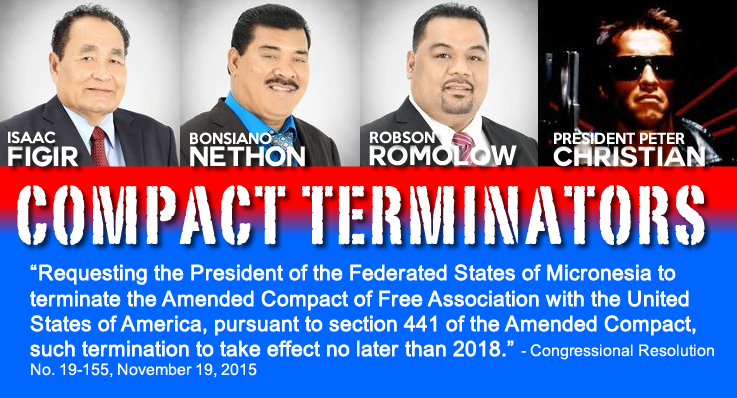 On November 19, 2015, two members of the Chuuk delegation to the FSM Congress, Senators Romolow and Fasy Nethon along with Senator Figir from Yap co-sponsored a Congressional Resolution 19-155  (Download Now) requesting the FSM President to terminate the Compact of Free Association (COFA) with the United States as early as the year 2018.
The resolution is similar to CR 17-61 (Download Now) sponsored by then Senator Peter Christian in 2011 during the 17th FSM Congress.
What has been clear for a long time now is that President Christian and Congressmen Figir have been outspoken in their opposition to the Amended Compact. They have repeatedly called the stringent fiscal measures by the US as interference in the sovereignty of the FSM. Why Nethon and Romolow have aligned with these two anti-COFA leaders is unclear.
It is painfully true that the United States Government has the upperhand in JEMCO votes given their majority membership.  But the two resolutions lack credibility because the FSM Congress has been the worst abuser of the COFA funding. Yet our leaders have never taken full responsibility for their part in the misappropriation of public funds. Instead, they blame the United States government for wanting fiscal accountability.
By re-introducing President Christianʻs 2011 resolution, should we be concerned about the possible breakdown of a check and balance between the Executive and the Legislative branches of our national government? Are Figir, Nethon, and Romolow being used to push the agenda of the Executive Branch at the expense of their own constituents?
Some questions for Senators Nethon and Romolow:
Why are the two Chuukese congressmen, Nethon and Romolow, turning their backs on the thousands of Chuukese constituents living, working, attending schools, seeking healthcare, serving in the US Armed Forces in the United States protected by the Compact?
Is Senator Romolow, the new and youngest member of the FSM Congress, being manipulated by the elder senators and President Christian for their own agenda?
Is there a plan to prevent FSM citizens from being deported if the COFA is terminated in 2018? What jobs will they have when they are deported back to the FSM?
If this was part of their long-term vision for the FSM, then why didnʻt they openly discuss it during the campaign season?
What is the alternative plan for the FSM if the Compact isnʻt working for our nation?
We invite Senator Romolow and Senator Nethon to provide their responses (in Chuukese or English) by email to vid@chuukstate.org and we will post them verbatim so we can all know all sides of this issue.