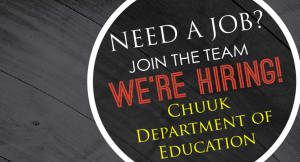 The Chuuk Department of Education (CDOE) is currently recruiting college graduates for over 50 teaching positions in public elementary and secondary schools across each of Chuuk Stateʻs five regions. A team from CDOE will be in Honolulu (June 22 – 25, 2016) and Guam (June 26 – 30, 2016) to meet with interested individuals – Chuukese or not.
Benefits
Airfare to Chuuk
Housing for teachers placed in a school away from family
Financial incentives for teachers willing to teach in "hard to fill" schools
Competitive salary based on teaching experience
Qualified candidates with bachelorʻs degree & teaching excellence possible fast track to a school leadership position with higher salary
Associate of Arts or Science degree holders are eligible for degree upgrading programs in Chuuk
Minimum Qualifications
Only degree holders can be employed in public schools in the Federated States of Micronesia (FSM)
To Apply
Fill out the Job Application Form and send to CDOE with all required documents.
The recruiting team will conduct interviews during the dates above. Bring your application to your interview or send later.
Contact