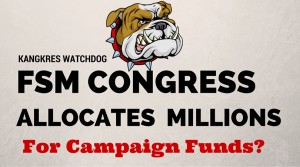 During the 3rd Regular Session (January 26 – February 14, 2016) of the 19th FSM Congress, Senator Victor Gouland of Chuuk State's Election District #2 introduced Congressional Bill No. 19-131 appropriating over $3 million dollars at $250,000.00 each member of Congress "to fund public projects and social programs in the States of Yap, Kosrae, Pohnpei and Chuuk, and for other purposes."
Is it coincidental that this appropriation is happening at the start of the campaign season for the March 2017 General Elections? Not at all.  This has been the same congressional Playbook since Compact I. The projects are the same since 2008, but with different crooks to distribute these public funds as part of their campaign treasure basket.
Get ready as the congressmen are about to walk the paths, drive the roads, sail the seas, fly the skies to visit your community for their usual drive-by charame and their unscrupulous handouts known as "Christmas Drops." Be sure to attend their public meetings and exercise your right to know.  Question their funding priorities. Ask who is benefiting from these projects. Ask how these projects are helping our municipalities, state and nation to prepare for 2023 when the economic provision of the Compact ends. Ask why only $17,000 is allocated for student scholarships out of $1.5 million dollars for the Chuuk delegation.
In the table below, you can find the exact project description, amount, and the congressman from Chuuk State who will be spending these public funds. The first column is my attempt to categorize these line items for easy public understanding.
Note: You can click on the arrow at the top of each column to alphabetize or sort the items in the column.
| Category | Project Description | Amount | Congressman |
| --- | --- | --- | --- |
| Categories | Project Description | Amount | Congressman |
| Repair | Public Facilities repair and improvement | $30,000 | Wesley Simina |
| Youth | Youth Activities programs and projects | $32,000 | Wesley Simina |
| Students | Students Financial Assistance | $7,000 | Wesley Simina |
| Housing | Low Income Housing subsidy | $30,000 | Wesley Simina |
| Travel | Farmers and students land transportation | $17,000 | Wesley Simina |
| Travel | Leadership exposures and travel | $15,000 | Wesley Simina |
| Farming | Farmers planting tools and seedling project | $14,800 | Wesley Simina |
| Operations | CSCIP operation | $5,000 | Wesley Simina |
| Rental | Offices Rental and Operations Commission | $7,000 | Wesley Simina |
| Travel | POL and Charter | $13,200 | Wesley Simina |
| Operations | At-Large Office Operation | $20,000 | Wesley Simina |
| Sports | Sports facilities construction (basketball courts) | $11,000 | Wesley Simina |
| Fishing | Fishing gear and equipment | $25,000 | Wesley Simina |
| Construction | Seawall and Taro Patches Protection | $10,000 | Wesley Simina |
| Repair | Multipurpose building repair and renovation | $5,000 | Wesley Simina |
| Food | Feeding program | $10,000 | Wesley Simina |
| Medical | Medical referral and repatriation of remains | $10,000 | Wesley Simina |
| Construction | OCHAP Community Hall Construction | $5,000 | Wesley Simina |
| Municipality | Tonoas Municipal Government inauguration activities | $1,000 | Wesley Simina |
| Municipality | Udot Municipal Government inauguration activities | $1,000 | Wesley Simina |
| Municipality | Kuttu Municipal Government inauguration activities | $1,000 | Wesley Simina |
| Students | Students' Financial Assistance | $0 | Florencio Harper |
| Debt Relief | Mortlock Development Commission outstanding debts (past and present) | $8,119 | Florencio Harper |
| Municipality | Ta Municipality subsidy | $3,000 | Florencio Harper |
| Housing & Transportation | Community Housing improvement / freight or charter | $45,000 | Florencio Harper |
| Conference | Leadership Conference | $15,000 | Florencio Harper |
| Travel | Leadership travel | $10,000 | Florencio Harper |
| Youth | Youth musical instruments | $0 | Florencio Harper |
| Housing | Housing Improvement | $21,881 | Florencio Harper |
| Travel | Transportation needs | $5,851 | Florencio Harper |
| Operations | CSCIP | $4,149 | Florencio Harper |
| Travel | Sea transportation assistance | $7,200 | Florencio Harper |
| Operations | Mortlock Development Community operation | $22,800 | Florencio Harper |
| Municipality | Pou (Weno) Community Center Improvement | $0 | Florencio Harper |
| Health | Health and Sanitary project | $11,000 | Florencio Harper |
| Operations | ED #1 Operation | $11,000 | Florencio Harper |
| Operations | Administrative Support costs for Delegation | $0 | Florencio Harper |
| Food | Food Relief Assistance | $0 | Florencio Harper |
| Solar | Solar System Project | $85,000 | Florencio Harper |
| Sports | Basketball court | $4,064 | Victor Gouland |
| Facilities | Meeting Halls | $0 | Victor Gouland |
| Unknown | Neoram, Nepukos ($10,000) | $1,540 | Victor Gouland |
| Unknown | Faichu, Eor ($6,000) | $600 | Victor Gouland |
| Unknown | Faramas, Sapuk ($4,000) | $0 | Victor Gouland |
| Unknown | Neinifach, Mwan ($5,000) | $0 | Victor Gouland |
| Municipality | Fonoton Municipal subsidy | $15,396 | Victor Gouland |
| Operations | Public school / bus operation | $35,000 | Victor Gouland |
| Construction | Road construction | $0 | Victor Gouland |
| Repatriation | Repatriation of human remains | $6,000 | Victor Gouland |
| Culture | Kokumy cultural celebration | $4,000 | Victor Gouland |
| Operations | CSCIP | $10,000 | Victor Gouland |
| Operations | NNDA operation | $25,000 | Victor Gouland |
| Housing | Housing assistance ($15,000) | $25,600 | Victor Gouland |
| Fishing | Fishing projects | $20,000 | Victor Gouland |
| Medical | Medical supplies & equipment | $0 | Victor Gouland |
| Travel | Leadership travel & exposure | $10,000 | Victor Gouland |
| Repair | Public facilities repair and improvement | $33,000 | Victor Gouland |
| Supplies | Purchase of heavy equipment and heavy equipment parts | $40,000 | Victor Gouland |
| Operations | Election District No. 3 Operation | $25,000 | Bonsiano Nethon |
| Housing | Housing and Community Halls | $45,500 | Bonsiano Nethon |
| Fishing | Fishing projects | $15,000 | Bonsiano Nethon |
| Repairs | Fiberglass boats repair | $5,000 | Bonsiano Nethon |
| Municipality | Municipality inauguration activities | $4,500 | Bonsiano Nethon |
| Sports | Sport Tournaments facilities / supplies | $3,000 | Bonsiano Nethon |
| Food | Feeding program | $10,000 | Bonsiano Nethon |
| Sewing | Crafting and sewing projects | $7,000 | Bonsiano Nethon |
| Farming | Market / local produce | $10,000 | Bonsiano Nethon |
| Operations | CSCIP operation | $5,000 | Bonsiano Nethon |
| Business | Subsidy for entrepreneurships and business start up | $10,000 | Bonsiano Nethon |
| Solar / Computers | Nukuno Christian School solar panels / computers | $10,000 | Bonsiano Nethon |
| Travel | Leadership Travel | $15,000 | Bonsiano Nethon |
| Youth | Youth rehabilitation programs | $9,000 | Bonsiano Nethon |
| Conference | Mayors Leadership Conference | $5,000 | Bonsiano Nethon |
| Travel | Land transportation | $12,500 | Bonsiano Nethon |
| Students | Students' Financial Assistance | $10,000 | Tiwiter Aritos |
| Youth | Youth activities and programs | $10,000 | Tiwiter Aritos |
| Travel | Leadership exposure and travel | $15,000 | Tiwiter Aritos |
| Operations | FDA operations | $20,000 | Tiwiter Aritos |
| Operations | CSCIP operations | $5,000 | Tiwiter Aritos |
| Municipality | Udot Muncipal subsidy | $10,000 | Tiwiter Aritos |
| Housing | Low income housing grant | $40,000 | Tiwiter Aritos |
| Fishing | Iongkumi fishing project | $40,000 | Tiwiter Aritos |
| Boat Repairs | Fiberglass boats repair | $10,000 | Tiwiter Aritos |
| Food | Food relief | $10,000 | Tiwiter Aritos |
| Travel | Land transportation | $20,000 | Tiwiter Aritos |
| Municipality | Polle Municipal subsidy | $10,000 | Tiwiter Aritos |
| Operations | ED#4 office operation | $30,000 | Tiwiter Aritos |
| Farming | Famachaw farming project | $10,000 | Tiwiter Aritos |
| Repatriation | Medical referrals & repatriation of remains | $10,000 | Tiwiter Aritos |
| Travel | POL & Charter | $59,000 | Robson Romolow |
| Food | Food Relief | $13,846 | Robson Romolow |
| Rental | Rental office space, office supplies and equipment, communication and utilities | $5,000 | Robson Romolow |
| Students | Students Financial Assistance | $0 | Robson Romolow |
| Medical | Medical referral, pharmaceuticals and repatriation of remains | $14,426 | Robson Romolow |
| Operations | CSCIP | $5,000 | Robson Romolow |
| Operations | Project Management | $20,000 | Robson Romolow |
| Training | On the job training subsidy | $0 | Robson Romolow |
| Land | Land Acquisition for the people of Halls, Weito and Pattiw Islands. | $71,000 | Robson Romolow |
| Land | Land filling in Weno | $0 | Robson Romolow |
| Travel | Transportation needs | $15,000 | Robson Romolow |
Definitions:
POL = Petroleum Oil Lubricant (gas & oil)
CSCIP = Chuuk State Commission on Improvement Projects
NNDA = Northern Namoneas Development Authority (same NNDA that was in the Cholymay vs. FSM trial)