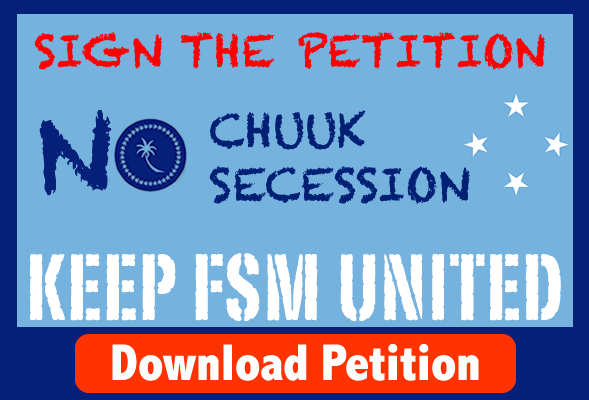 The Chuuk Reform Movement's online petition on change.org, which had garnered over 1,000 signers in 2014, has been re-opened, updated in 2017 to re-engage Chuukese citizens against the Chuuk Political Status Commission (CPSC), Governor Johnson Elimo and members of the Chuuk State Legislatures who are planning to hold a referendum on July 4, 2018.  While the online version remains active,  we are now launching a printed version to be distributed among our Chuukese people abroad and at home. Both petitions will be presented to every member of the Chuuk State Legislatures and Governor Johnson Elimo to show our opposition to the Chuuk independence movement.
It is crucial that all Chuukese citizens and our US-born Chuukese youth sign this printed petition. We believe that the Chuuk secession  will negatively impact all of us. Given the recent Final Report and the disclosure of the timeline of the Chuuk secession, it is very clear now that the Chuuk Political Status Commission failed to adequately study the negative impact on Chuukese citizens living in the United States protected by the FSM Compact of Free Association.
It is highly likely that Chuukese parents may  be deported from the US once their FSM passport is invalidated if Chuuk State secedes from the FSM. Without guarantee of a Compact for the planned Republic of Chuuk, US-born Chuukese children may be separated from their Chuukese parents.
We are also concerned that the July 4, 2018 referendum will be rigged to guarantee passage of the Chuuk independence. Political leaders have cheated before on these elections so we want the petitions to serve as additional avenues for our leaders to hear the voices of the Chuukese citizens and their children. We also want the petitions to include the voice of our US-born Chuukese youth who cannot vote in the March elections by virtue of their US citizenship.
Please print as many of these forms as you can or email me (vid@chuukstate.org) your address and I'll send you printed copies of the petition to get people to sign. Let's only have Chuukese people to sign this petition since we're addressing it to our own governor and representatives / senators in Chuuk State. The signed forms can be mailed to the new Chuuk Reform Movement's mailbox in Chuuk found on the form or to Vid Raatior at 2713 Subec Lane, Soquel, CA 95073.
Click here to Download Petition Form.
Below is the full text of the Petition and the Chuukese translation:
Citizen Petition Against Chuuk Secession & Independence

We, the undersigned, humbly request our representatives in the Chuuk State Legislature and our Honorable Governor Johnson Elimo, to stop the referendum on Chuuk secession and independence, based on the fact that the Chuuk Political Status Commission failed in its basic duties to thoroughly study all options for Chuuk financial sustainability beyond 2023 and the negative impacts on Chuukese citizens and our children living in the United States protected by the FSM Compact of Free Association.

Chuukese Translation: Kich, ekkei sia mak itach asan, sia mochen tingor non anononen ach suffon me mennen ngeni nouch kewe sia finirenong non ewe Chuuk Anepwung tori nouch Amafel Kepina Johnson Elimo, pwun oupwe feri met esap fisita ei ammokutun an Chuuk epwe towu seni FSM pokiten ewe Chuuk Political Status Commission ese foriochu wiser ne kutta met Chuuk epwe epinasa ngeni ewe osukosuken moni pekinon ewe ier 2023 nge esap ousukusuker ekkewe chon Chuuk me nouch kewe re nom Merika fan pechokunen ewe FSM Compact of Free Association.