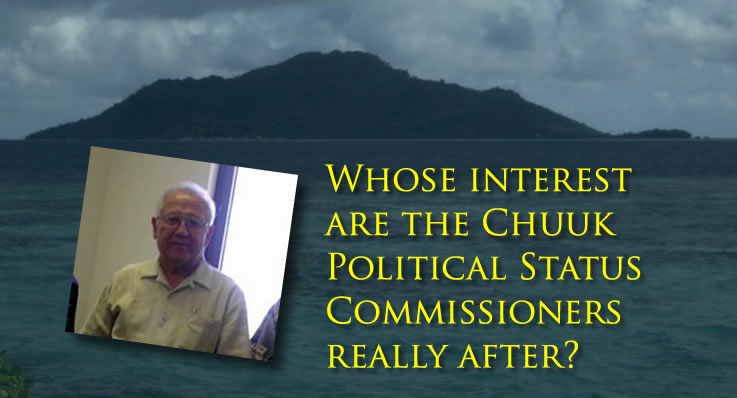 Last week I shared an electronic copy of a notarized Memorandum of Understanding (MOU) between Mr. Kachutosy Paulus (Chairman, Chuuk Political Status Commission), Ms. Marilyn Manibusan (convicted ex-Senator from Guam), and some Chinese companies involving $200 million dollars worth of investment in Faichuk. Clearly, there was a Faichuk – Chinese – Manibusan connection in that MOU.
But did the Faichuk secession movement reflect the actual aspirations of the average Faichukese people? Or was it simply a front by a few politicians and businessmen to benefit financially at the expense of the average citizen? What role, if any, did the leaders of the Faichuk secession movement (e.g. Kachutosy Paulus, Karsom Enlet, Pandinus Suzuky, Tadasy Wainit, and many others) play in these Chinese deals? Frankly, I don't know, but I do wonder…
Is the Chuuk secession movement simply an extension of a more secretive strategic plan for power grab by the Chairman and other members of the CPSC who may have vested interest in an independent Chuuk?
Another notarized MOU obtained by this author has even more disturbing secretive arrangements that extend beyond the Faichuk geographical and political jurisdictions. This time the Faichuk Capital Improvement Programs & Infrastructures arranged to develop a power plant in Southfield on Weno to provide power to Southern Namoneas specifically the islands of Toloas, Fefan, Eten, and Uman.  Senator Kachutosy Paulus from Faichuk was specifically named to identify and mange the local arrangements while Manibusan & Associates would serve as contractors to deal directly with a group of Chinese investors in a company called Beijing Hua Yin Industrial Development (Group) Company.
How did the then Senator Kachutosy Paulus from Faichuk manage to negotiate a $25 million dollar deal with the Chinese investors on behalf of the people of Southern Namoneas? Were the people aware that Faichuk was representing their interests in China? Were Southern Namoneas leaders aware of this and if so what was their share of the deal?
The MOU further specified that $5 million US dollar would be paid by the Chinese investors in the form of a Cashier's Check made payable to Marilyn & Associates which represents the interests of Senator Paulus. Was that money shared with other landowners in Southern Namoneas for the power poles that would have surely been part of an electrical grid? Or did the $5 million dollars go into some deep pockets of certain politicians and leaders in Faichuk or Southern Namoneas?
Again why weren't the Chuuk State and the FSM National governments informed or party to these multimillion dollar investment deals? Are these deals with the Chinese companies laying dormant until Chuuk becomes an independent nation separate from the FSM government? Are these the economic packages that the CPSC members are alluding to in their public hearings? And who stands to benefit and lose from these type of secret deals with the Chinese?
If these two MOUs represent a pattern of secretive business deals with the Chinese by the chairman of the CPSC, then we call on the Governor and Chuuk State Legislature to do their due diligence to ensure that the common good of the Chuukese people are not being manipulated and compromised. Perhaps Chuuk should do the right thing and slow down to properly address the questions raised.
Suggested Reading: