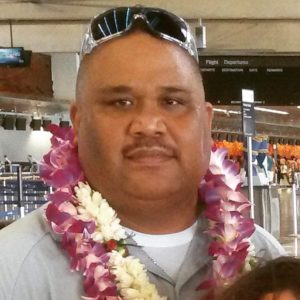 On May 1, 2016, Chuukese youth leader and educator Richard Kansou, an alumnus of Xavier High School and University of Guam from Sapuk, Weno delivered the following speech to the Guam-based Micronesian youth members of One Unity.  One Unity comprises of Micronesian youth from all the local high schools on Guam. Thank you, Rich, for your inspiring words to our youth and to all of us.
Rise up young Micronesian warriors rise up! Rise up young Micronesian navigators rise up! Oh be be proud of who you are, be proud to be a Micronesian.

Hold on to your spear which today it has transformed into a pencil for it is your pencil that will grant you an education and it is your education that will make you an academic achiever, an innovative thinker and be technologically literate and a well- versed wise warrior in this new millennium.

Hold on to your paddle of faith for it will be a light to your feet and a lamp to your path. Psalms 119:105. It is our God's word that will give you conviction to stand for righteous and freedom. For It is your faith that will give a duty and purpose for the good for all men.

Hold on to your cultural identity for it is your forfathers like Master Navigator Piainuk and his great ancestor's traditions, beliefs and sacrifices that has brought you this far. But before you sail you need to know who you are, where are you navigating and how to navigate and when to navigate in order to sail smoothly through the ocean which plagued with waves of drugs, waves of exploitation and waves of money laundering.

Be proud of your ancestor's for it was them that traveled across the vast Ocean of Micronesia and the Pacific only with traditional metheods. It was their traditional skills and observations of the wind, the skies, the stars and the birds.

You are of a race that believes in the dynamics of people. Like Chief Petrus Mailo expresses, " Aramas chok angang, aramas chok mongo, aramas chok fonu. Meaning to say, "only with people there is work, only with people there is food, only with people there is land." In other words we Micronesians have a belief that people are power and people are wealth.

It is also our Micronesian beliefs that it is our heritage and cultures that unites us all Micronesians. Therefore warriors and navigators I say unto you, you are the power and you are the wealth! Like the doctrine of the famous President Abraham speech, "By the people, of the people and for the people." Therefore young Micronesian warriors and navigators its no longer just about our F.S.M political leaders nor our state's political leaders. Rather it is about you-itʻs about me and all of us. Therefore rise up young warriors and young navigators and see to it that our race, our society our nation is in one accord for the benefit for all.

Be proud oh young Micronesian warriors you are still fighting for our ancestor's and for our race fight. You are fighting a war of inequality, a war of injustice and a war of inferiority. Whatever happened to humanity and whatever happened to equality? Instead of abiding by justice we we are spreading animosity. It is lack of understanding and wisdom that is moving us away and further away from unity. Therefore hold on fast to our heritage and culture for it unites us all Micronesians.

Be proud oh young Micronesian navigatiors for you are still paddling for our ancestor's and for our race survival. Be strong as you paddle against the swells of the ocean which is plaqued with corruption, discremination and manupulation.

Keep fighting the the fight for justice and peace!

Keep paddling and set sail as we reach the land of freedom, and justice under one nation, one God and liberty for all. Therefore young warriors be strong oh young Micronesian warriors the fight is not over infact the fight has just begun.

Be strong oh young Micronesian navigators and take charge as we journey into this new millennium.

Take charge, Take charge my young warriors and navigators and rise rise up.