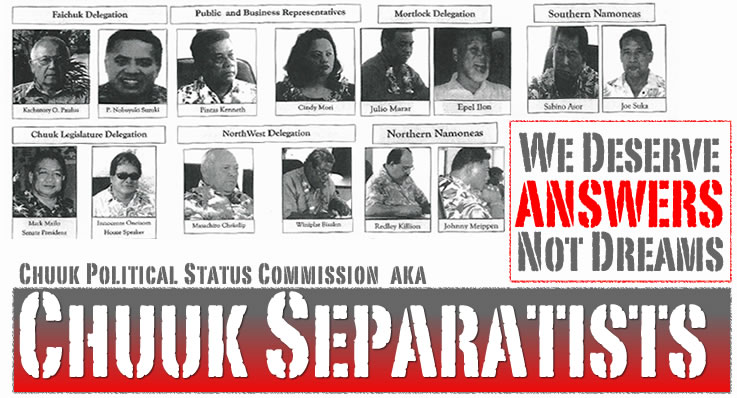 The Political Status Commission (CPSC) better known as the Chuuk Separatists are proposing to travel yet again to Hawaii, Guam, and other communities outside of Chuuk for another round of "public education" on their proposition to separate Chuuk from the Federated States of Micronesia (FSM). They are more traveling salesmen than public advocates.
Based on previous experience, there should be no doubt in anyone's mind that the Separatists' intention is to convince Chuukese citizens to support their views that Chuuk is better off separating from the FSM. They want the public to vote "YES" on the March 2015 ballots, yet they have produced not a single fact, feasibility study, an economic plan, a formula for success, an actual letter of support from any country including the United States, or any coherent timeline. Instead, they are traveling salesmen giving exaggerated figures, some misinformation, some misguided hopes, and a whole lot of dreams for non-existent financial support from non-committed and unnamed foreign countries.
It is simply unfair for the Separatists to ask the Chuukese people to vote for or against secession without knowing fully the advantages and disadvantages of such a high risk proposition. It's like a lawyer telling a family to choose to divorce without giving them every angle of such a move. Chuukese people cannot afford to follow these Separatists blindly off a suicide cliff without knowing what lays below the cliff…calm water, crashing waves, rescue boat, bed of roses, a boatload of Chuukese revugees, etc.
Lest we continue to be fooled by Chuukese politicians who never campaign on platforms but by sheer tingors, let's stop and re-think out strategies for getting real answers from the Separatists. Don't fool yourself by going to these so-called public hearings and expecting them to hear you out. Instead, expect to hear them talk your ears out. If those of you who are hosting these meetings cannot control the formats of the public hearings by leading them with Q & A rather than giving these salesmen free reign of the agenda, then don't publicize them as public hearings.
You may get more answers, save our State valuable money by emailing the Separatists and asking them your questions. Let them answer you directly and personally rather than spending the State money to rack up OnePass miles.  If you have something to say to your leaders on the Chuuk Political Status Commission, then write to them using the contacts below. If you need some questions to ask them, feel free to start with those that we have compiled in these three articles:
Chuuk State Governor
Johnson Elimo  (jelimo_1216@yahoo.com)
Attorney General & Chairman of CPSC Public Hearings
Sabino Asor (sab.asor@hotmail.com)
Chuuk State Legislature
Mark Mailo, President, Senate (amj653@gmail.com)
Inocenti Oneisom, Speaker, Representatives (iioneisom@gmail.com)
CPSC Chairman
Kachutosy Paulus (kachutosy@hotmail.com)
Mortlocks Region
Julio Marar (jmarar@fsmhealth.fm)
Northwest Region
Winiplat Bisalen (winiplatbisalen@yahoo.com)
Southern Namoneas
Sabino Asor (sab.asor@hotmail.com)
Northern Namoneas
Johhny Meippen (johnnymeippen@gmail.com)
Redley Killion (redleykillion@yahoo.com)
Business Leaders
Cindy Mori (cindys.mori@gmail.com)
Faichuk Region
Kachutosy Paulus (kachutosy@hotmail.com)
Sadly, the following equally important sectors and communities have no representation on the commission which shows the lack of planning and expansive vision for community input.
Traditional Leaders
None
Religious Leaders
None
Women Leaders
None
Youth Leaders
None
FSM Congress Delegation
None
FSM National Office
None
Education Representatives
None
Guam-based Chuukese Communities
None
Hawaii-based Chuukese Communities
None
Mainland-based Chuukese Communities
None