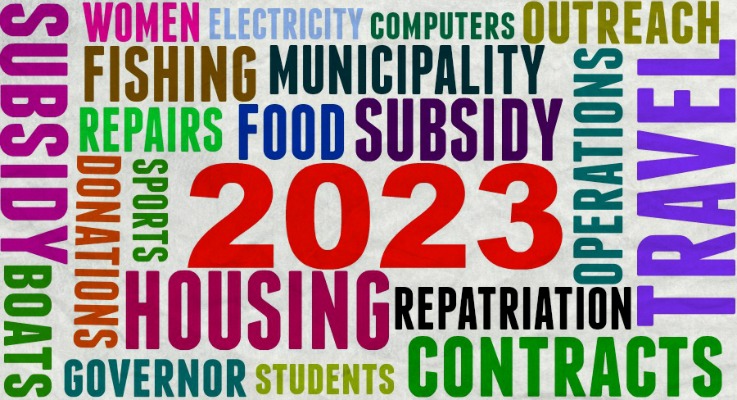 Exactly how are the members of the Chuuk delegation in the FSM Congress actively preparing our state and nation for the year 2023 when the economic provisions of the Compact ends? According to Public Law 19-54 signed by President Peter Christian on February 8, 2016, each member of Congress was appropriated $350,000.oo (not counting their Representation Fund) for a staggering total of $2.1 million dollars for the Chuuk delegation alone. That is an increase by $100,000.00 per congressman compared to the 18th FSM Congress appropriations as reported earlier.
In the table below you can find the breakdown of the individual appropriations for each congressman. Unbelievable but sadly true.
Note: You can click on the arrow at the top heading for each column to sort the items alphabetically or by amount.
| Category | Project Description | Amount | Congressman |
| --- | --- | --- | --- |
| Category | Project Description | Amount | Congressman |
| Operations | Allotteeʻs administrative support cost | $20,000 | Wesley Simina |
| Municipality | Municipal subsidies and prior obligations | $60,000 | Wesley Simina |
| Housing | Community Infrastructure and Housing Improvement / Renovation / New Construction | $40,000 | Wesley Simina |
| Students | Students financial assistance | $30,000 | Wesley Simina |
| Sports | Mortlocks Goodwill Games 2016 | $10,000 | Wesley Simina |
| Travel | POL / Freight / Charters | $20,000 | Wesley Simina |
| Fishing | Fishing projects | $60,000 | Wesley Simina |
| Donation | Contributions to state, municipal and community activities, programs and events | $20,000 | Wesley Simina |
| Facilities | Tolensom Community Facilities | $30,000 | Wesley Simina |
| Equipment | Purchase of heavy equipment / parts | $40,000 | Wesley Simina |
| Repair | Roads / Docks / Seawalls improvement and beautifications | $20,000 | Wesley Simina |
| Boat | Purchase and operation of MIDAʻs Sea vessels | $90,000 | Florencio Harper |
| Municipal | Municipal governments subsidy | $66,000 | Florencio Harper |
| Mixed | Poverty alleviation, Housing and Multi-purpose buildings repair, improvement and projects | $144,000 | Florencio Harper |
| Events | Municipal / Community / traditional event special occasions | $30,000 | Florencio Harper |
| Students | Mortlocks students scholarships at Christian Faith Walk College (CFC) | $10,000 | Florencio Harper |
| Students | Mortlockese students at Christian College Pastoral Institute (CCPI) | $10,000 | Florencio Harper |
| Housing | Community housing rehabilitation program | $100,000 | Victor Gouland |
| Fishing | Fishing projects | $30,000 | Victor Gouland |
| Operations | ED # 2 administrative support / cost | $20,000 | Victor Gouland |
| Travel | POL / Freight / Charters | $10,000 | Victor Gouland |
| Travel | Land transportation | $15,000 | Victor Gouland |
| Technology | Chuuk International Airport WIFI | $2,500 | Victor Gouland |
| Outreach | Community Outreach and Advocacy program | $30,000 | Victor Gouland |
| Contract | Contractual services (school teacher / cook / consultant) | $10,000 | Victor Gouland |
| Elections | Weno General Election | $17,500 | Victor Gouland |
| Repatriation | Human remain repatriation | $10,000 | Victor Gouland |
| Debt Payment | Prior obligation and outstanding debts | $10,000 | Victor Gouland |
| Food | Food security program | $30,000 | Victor Gouland |
| Students | Students financial assistance and outstanding debts | $10,000 | Victor Gouland |
| Municipal | Weno Municipal government subsidy | $5,000 | Victor Gouland |
| Water | Water system project | $10,000 | Victor Gouland |
| Solar | Solar and power distribution system | $10,000 | Victor Gouland |
| Travel | Community leadersʻ conference / travel cost | $10,000 | Victor Gouland |
| Governor | Chuuk State Governorʻs Office subsidy | $10,000 | Victor Gouland |
| Youth | Youth activities, programs and events | $5,000 | Victor Gouland |
| Women | Chuuk Women Council | $5,000 | Victor Gouland |
| Fishing | Fishing project grant | $55,000 | Bonsiano Nethon |
| Housing | Housing and Community Hall supplemental / typhoon Maysak | $30,000 | Bonsiano Nethon |
| Repairs | Multi-purpose building / facilities repair / improvement | $20,000 | Bonsiano Nethon |
| Technology | ED #3 Network improvement / installation / IP Network and internet connectivity project | $30,000 | Bonsiano Nethon |
| Electricity | Tonowas Power / Electricity distribution and lighting installation / accessories | $25,000 | Bonsiano Nethon |
| Trees | Coconut trees rehabilitation project | $25,000 | Bonsiano Nethon |
| Repairs | Road / Seawalls / Taro Patch protection / improvement / relocation / beautification - Polle to Ununo, Fefen | $10,000 | Bonsiano Nethon |
| Housing | Failuk Uteisom cultural community Hall, Fongen, Fefen | $5,000 | Bonsiano Nethon |
| Food | Food relief program / contribution | $30,000 | Bonsiano Nethon |
| Donation | Contributions to Associations in US Mainland, Hawaii, Guam and Saipan | $15,000 | Bonsiano Nethon |
| Water | Water system project | $10,000 | Bonsiano Nethon |
| Travel | Students / SNDA sub office transportation need and services in Pohnpei | $7,000 | Bonsiano Nethon |
| Operations | Administrative support service / costs | $15,000 | Bonsiano Nethon |
| Outreach | Community Outreach and Advocacy Program | $20,000 | Bonsiano Nethon |
| Housing | Community Hall - Nefoo Uteisom Nukanap, Uman | $6,000 | Bonsiano Nethon |
| Housing | Fitiman Uteisom Community Hall, Machou, Uman | $7,000 | Bonsiano Nethon |
| Housing | Epinefow Community Hall supplement Sopou, Uman | $3,000 | Bonsiano Nethon |
| Rental | Southern Namoneas Development Authority (SNDA) Office space rental | $10,000 | Bonsiano Nethon |
| Repair | Road improvement / repair (Paitiw Elementary School) | $10,000 | Bonsiano Nethon |
| Business | Business startup and Entrepreneurship | $10,000 | Bonsiano Nethon |
| Fishing | Fishing project subsidy | $50,000 | Tiwiter Aritos |
| Humanitarian | Humanitarian assistance subsidy | $50,000 | Tiwiter Aritos |
| Operations | Faichuk Development Authority (FDA) Administrative cost | $15,000 | Tiwiter Aritos |
| Municipal | Municipal government subsidies | $100,000 | Tiwiter Aritos |
| Housing | Low Income housing subsidy | $50,000 | Tiwiter Aritos |
| Repatriation | Repatriation of human remain | $15,000 | Tiwiter Aritos |
| Travel | Leadership / students / patients travel | $20,000 | Tiwiter Aritos |
| Travel | Students land transportation | $20,000 | Tiwiter Aritos |
| Conference | Faichuk Island Leadership conference | $30,000 | Tiwiter Aritos |
| Travel | POL / Freight / Charter | $20,000 | Robson Romolow |
| Housing | Community and low income housing improvement / renovation | $35,000 | Robson Romolow |
| Municipal | Municipal governments subsidy | $20,000 | Robson Romolow |
| Legislature | Northwest House of Representative delegation subsidy | $15,000 | Robson Romolow |
| Outreach | Community Outreach and Advocacy Program | $15,000 | Robson Romolow |
| Students | Students Financial Assistance subsidy | $30,000 | Robson Romolow |
| Food | Food relief program | $20,000 | Robson Romolow |
| Operations | ED #5 Administrative Support | $20,000 | Robson Romolow |
| Unknown | Pacific Festival of Arts participants | $30,000 | Robson Romolow |
| Repatriation | Patient Referral and Human Remain Repatriation | $20,000 | Robson Romolow |
| Contract | Contractual service for grant writer | $10,000 | Robson Romolow |
| Technology | Solar and Communication System | $50,000 | Robson Romolow |
| Water | Water tanks | $15,000 | Robson Romolow |
| Boat | MS Yolap operation subsidy | $8,000 | Robson Romolow |
| Travel | Land transportation | $17,000 | Robson Romolow |
| Boat | Northwest dispensary boats and motor | $15,000 | Robson Romolow |
| Conservation | Chuuk Conservation Society subsidy | $5,000 | Robson Romolow |
| Women | Chuuk Women Council subsidy | $5,000 | Robson Romolow |